How we made a difference in

2017
"Hi – I'm Monty. You might have seen me on Facebook and Twitter. Look out for lots of ideas on how you can help The Movement Centre throughout this Impact Review wherever you see the lightbulb icon!"
You can also visit our website at www.the-movement-centre.co.uk
Welcome
2017 has been an exciting year for The Movement Centre. Over the last 12 months we have celebrated 20 years of our specialist therapy, Targeted Training. We were excited to hold a special event in September and be able to share in our celebrations with so many families, supporters and friends. Every year we rely on the kind support of so many individuals, community groups, companies and charitable trusts and foundations. Once again, we were overwhelmed by everyone's generosity.
There have been so many highlights during 2017, that it is hard to capture them all! One of our key objectives has been to raise awareness of our work, so that more and more families who may wish to access Targeted Training are able to find out about us. As well as creating our new video, we have produced a number of new leaflets, which have helped enable us to spread the word. We have been invited by many organisations to talk about Targeted Training, and how the specialist therapy can make a difference. This has allowed us to bring our messages to many audiences. We are delighted to report that we have seen a growth in the number of children who have been referred to The Movement Centre. This, in turn, has resulted in a growth in the number of children starting a course of Targeted Training. We have also been working hard to develop our services. As part of this, we have received a number of generous grants that will enable us to buy new sensory equipment, which can be used in our therapy sessions.
It is wonderful that we can celebrate these achievements and we are very thankful to everyone who has supported our work. This, of course, includes all of the families who work so hard during their course of therapy. Beyond this, so many of our families contribute towards the cost of a course of Targeted Training, often working hard to raise funds. With the kind support of our fundraisers and donors we are also able to subsidise the costs, and we aim to ensure that every family who would like to come to The Movement Centre are able to do so.
We are now looking forward to 2018, and beyond. We are ready to take on new challenges and to continue to enhance our services. We are excited to work with our supporters, volunteers and families so that we can continue to reach more children in the UK who might benefit from Targeted Training. By coming together we can make an impact!
What is Targeted Training Therapy?
Targeted Training therapy is different from other therapies. It works by placing the child in an upright position and uses equipment to provide stability and support. This support is given directly beneath where control becomes an issue for the child. As each child makes progress the level of support is lowered so that they can continue to develop movement control. By doing this it mimics the way in which movement control is naturally developed in a young infant; from the head downwards. A course of Targeted Training therapy takes place over 12 months. Children attend our centre in Oswestry approximately every eight weeks and take their Targeted Training equipment home. This comprises of a specially designed standing frame. Each frame is tailored and adjusted to the child's specific requirements. The therapy involves practice for half an hour to an hour every day. Although it sounds like homework, it can actually be lots of fun, and children enjoy their therapy, while making progress, reaching their individual goals.
Six months after the end of their course of therapy, each child is invited back to The Movement Centre for a review appointment. Targeted Training Therapy acts as a foundation and children can continue to make progress after they have finished.
Who?
Every year many children are born who have a disability that can have an affect the way in which they control their movement. The majority of children (79%) who come to The Movement Centre have Cerebral Palsy. We also see many children who have Global Developmental Delay, Down Syndrome or an undiagnosed disability. Targeted Training therapy can help children who have experienced a brain injury during their childhood, which can also have an impact on their movement control. It is difficult to quantify just how many children in the UK find it challenging to control their movement. While, Targeted Training is not suitable for every child who has Cerebral Palsy, it can benefit many children who have this diagnosis. It is estimated that 1 in 400 babies born in the UK has a type of cerebral palsy. With the birth rate in excess of 700,000 per year there could be as many as 1,800 new cases of cerebral palsy in children each year. This figure is set to rise.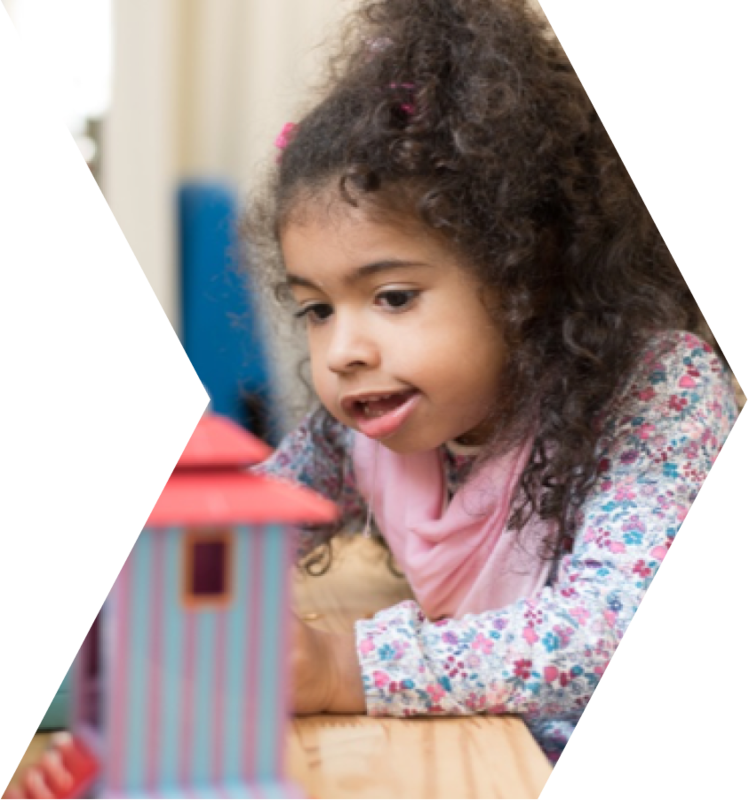 A recent study has outlined that the number of children with Cerebral Palsy in England and Wales is estimated to increase by 7.5% by 2020. It has also been documented that disabled children aged 0-16 are the fastest growing group among the population of people who have a disability. In the future we hope to carry out further research to enable us to estimate just how many children in the UK find it challenging to control their movement. However, the figures indicate that the number is set to rise. We are, therefore, aiming to develop our services so that Targeted Training is more accessible to the families who could benefit.
"We believe that with the addition of a course of Targeted Training a child is 3-4 times more likely to gain movement control than with regular physiotherapy alone."
Jac's Story
Jac first came to The Movement Centre in January 2016 when he was 2 years and 8 months old. He was finding it difficult to reach his milestones and was unable to sit unaided, which made playing with his toys very difficult. Jac's parents started to do some fundraising so that Jac could start Targeted Training as soon as possible. Along with their friends and family they raised over £26000, which was just incredible. Because of this they were able to help us support lots of other families.
After being supplied with his Targeted Training standing frame Jac was held with the top most support supporting him at upper lumbar. This support held him just beneath where control became an issue as to facilitate the learning of control at that weak point. By Jac's 3rd review he was given more functional goals to aim for, including a long term goal of standing, maintaining arms free for 20 seconds. Jac did really well throughout his course, and by the end he was still continuing to make great progress. It was decided that Jac would benefit from going onto a second course of Targeted Training. As he progressed through his second course Jac was able to walk on his knees. His walking with one hand held was getting better with each appointment.
With his new found skills Jac has gained more independence – on foot and on three wheels, as you can see in this video!
Don't forget to join us on Facebook to see more of Jac's progress and other children's journeys.
Our impact in 2017
In 2017 61 children received a course of Targeted Training at The Movement Centre. We are working hard to increase our capacity and to be able to provide our services to many more children. Throughout the course of therapy families come back to The Movement Centre every 8 weeks. During assessments, goals are set by our specialist Physiotherapists. These goals are selected from the Gross Motor Function Measure, an assessment system familiar to therapists. It provides clear descriptors of each functional activity.
We are pleased to be able to report the outcomes achieved with Targeted Training therapy.
"The Movement Centre is not only life changing for families but somewhere you always feel supported, encouraged and the children laugh and have so much fun!"
Courses of Targeted Training were completed in 2017.
Of all goals set were achieved.
Of all sitting goals were achieved.

89%

89%

Of all crawling goals were achieved.

100%

100%

Of all standing goals were achieved.

83%

83%
Enhancing our services
Alongside our key activity of providing Targeted Training Therapy, we are aiming to further develop our services. Some of the ways in which we have achieved this in 2017 are outlined below.
Why not follow us on Twitter? Look for twitter.com/@TMCOswestry – likes, retweets and mentions are always welcome. You can also spread the word about our work and events!
Annual Patient Survey
Between April and May 2017 The Movement Centre invited parents to respond to our annual survey. The aim of the questionnaire was to gain feedback so that The Movement Centre services, which are offered to children and families, could be improved. This provided us with valuable information and we have made improvements in response to the feedback. This includes: Increased contact with families in between therapy sessions, further fundraising support and launching a platform for parents to share ideas and information.
Makaton Course
The Movement Centre hosted a 2 day Makaton Beginners Course on the 5th April and 3rd May. Makaton is a language programme using signs and symbols to help people to communicate, that a number of our children use. There were 14 delegates made up from The Movement Centre's clinical staff and representatives from other organisations. This has allowed us to be Makaton Friendly and we have used Makaton in our sessions and displayed Makaton signs throughout our building.
Sensory Equipment
One of our objectives in 2015-16 was to provide more sensory equipment for the children who visit the centre. This equipment helps to further engage the children, creating positive outcomes as part of Targeted Training Therapy. It can be used during and after the sessions for calming and relaxing activities. We are delighted to have received a number of donations, which will enable us to purchase sensory equipment.
Digitalising our video recording system
One of our objectives, as listed in our Report and Accounts last year was to digitalise our video recording and storage system. Each of our therapy sessions is recorded in order for us to keep a record of the progress of each child and to allow our physiotherapists to have a record of the sessions while writing reports. Our previous system was outdated and did not allow us to easily access recordings. We now have a new system in place so that all recordings are digital. This means that they are of a higher quality, that they can be more easily stored and that they can be shared with families. We are now exploring the option of presenting all families with a record of all of the sessions at the end of each course of Targeted Training. The next stage will be to digitalise previous recordings into a new database, creating a storage library of all patient videos.
Education, Health & Care Plans event
In November The Movement Centre hosted an interactive workshop at The Movement Centre to enable families and clinicians to learn more about the EHC (Education, Health and Care) Plans. We were able to offer the event for free due to the kind support of Lanyon Bowdler solicitors & No5 Barristers' Chambers.
Mural artwork at The Movement Centre
Mural artist Rory McCann very kindly donated his time and services to The Movement Centre in May/June and December 2017. Rory's artwork has made the space inside our building more uplifting and exciting. Rory's illustrations of characters from children's' books and films are enjoyed by everyone who comes to The Movement Centre. We are extremely thankful to Rory for his support.
2017: The graduating class
On the 11th April we had our 2017 Awards Party. It was a very special day. The annual event at The Venue at Park Hall in Oswestry celebrates the achievements of all the children who have completed a course of Targeted Training therapy at The Movement Centre over the last 12 months. The party is a great opportunity for all of the families to get together and for the children to show everyone their new found skills. There is also lots of opportunity to put them into practice as children attending the party are given the VIP treatment and have exclusive use of the soft play facilities. A huge thank you must go to The Venue for their help and to our many supporters and volunteers who help make the day so special.
Lyra's Story
Lyra's parents recognised that there was a delay in her development and after being assessed Lyra was given a diagnosis of Cerebral Palsy. Lyra was missing milestones, such as rolling, sitting, crawling etc. Aged 1 Lyra first learned to roll from her back onto her stomach. Her ability to maintain sitting emerged when she was 20 months old but she found it hard to progress further. Being nearly 2 years old she found being unable to stand or take independent steps very frustrating. Lyra's family brought her to The Movement Centre for her initial appointment in December 2016. She was given a thorough assessment by one of our physiotherapists to assess her potential of benefiting from a course of Targeted Training.
A few weeks later Lyra was supplied with her standing frame and her journey began. Given the goals of high kneeling and standing 2 hands held, Lyra and her family were sent home with the Targeted Training standing frame. We were kept updated with pictures and videos of Lyra's progress sent by Mum and Dad, and she was going in her standing frame 30 minutes a day 6 days a week. She was really enjoying her time in the standing frame. Lyra's brother, Joseph was very happy that his little sister was standing up and they could now do more activities together. Joseph helped out as much as he could to engage Lyra in activities while in her Targeted training stander. By her 3rd review, just 6 months into a 9-12 month course Lyra was standing independently and was taking up to 16 independent steps. This was fantastic news for Lyra's family, and seeing Lyra walking around the treatment room was great for TMC staff. Lyra had found her feet. She continued to work on consolidating her walking and by the time her 4th review came around Lyra walked into TMC, down the corridor, and was even showing us how well she could walk up and down the ramp! We are sure Lyra will continue to make progress at home and we very much look forward to seeing her and her family at her 6 month review.
Celebrating 20 years of Targeted Training Therapy
There were more celebrations in 2017, with a very special event to mark 20 years of Targeted Training therapy, which was developed at The Movement Centre.
The Movement Centre was first started back in 1996 and we were registered as a charity in 1999. Since we first opened our doors we have been focused on delivering Targeted Training to children who have a disability that affects their movement control. Throughout 2016 and 2017 we have been celebrating 20 years of this specialist therapy. On Sunday 17th September, staff and supporters of The Movement Centre were joined by some of the families who have attended the centre, along with supporters and friends to celebrate with a special afternoon tea.
We were kindly offered the use of Brynkinalt Hall in Chirk, for a celebration event and were delighted to have one of our patrons, Tom James MBE, in attendance. Tom is a British rower and twice Olympic Gold Champion and kindly brought along his medals on the day! The day was captured beautifully by Ade Clarke, who volunteered his services and was our photographer for the day. We have had so many wonderful friends and supporters over the last 20 years. They have given up time to help volunteer and raise funds to enable us to continue our work, we can't thank them enough!
Lanyon Bowdler are proud supporters of The Movement Centre and their work with children who have a disability that affects their movement control. We understand the challenges families face and why Targeted Training therapy is so important. By working together we can continue to make a difference to the lives of the families who attend The Movement Centre.
Beaumont Financial Planners are delighted to partner with The Movement Centre because of the difference they make to the lives of children with movement disabilities. It is wonderful to see the impact of Targeted Training therapy. We know that by supporting The Movement Centre we are investing in the future of so many children and helping to maximise their potential.
Percentage of donations that go directly to helping children gain life changing skills
Research & Development
Collaboration with Manchester Metropolitan University
Since 2014 we have been working in collaboration with Manchester Metropolitan University. The Movement Centre has supported María B. Sánchez, a PhD student from Manchester Metropolitan University. The aim of this work is to create a quantitative outcome measure (giving precise numbers and angles) that can be used to assess trunk posture and movement in a regular physiotherapy clinic environment. At present, only subjective outcomes (physiotherapist opinion of posture) are available. The collaboration has the potential to benefit the many thousands of severely affected children worldwide who have cerebral palsy and difficulties with trunk posture and control. It is in line with The Movement Centre's innovative approach to therapy and intervention for children with movement difficulties. María submitted her thesis in June and was awarded with her PhD in August 2017. The Movement Centre is looking forward to working with María in the future and further exploring the impact of the collaboration.
Collaboration with LJMU
In September 2017, The Movement Centre opened a new chapter working in partnership with Liverpool John Moores University. The aim of the collaboration is to design a piece of equipment to be used in Targeted Training Therapy. We are working closely with a design team from the Department of Maritime and Mechanical Engineering led by Dr Ariyan Ashkanfar and advisor Dr Russell English who are supervising the engineering team and providing technical support for the partnership. Advisor to The Movement Centre, Gabor Barton (MD PhD), who is a Professor of Clinical Biomechanics at Liverpool John Moores University, is working closely with the design team and supporting the partnership.
  Charitable Activities
49%
£136,087
  Donations
37%
£101,608
  Fundraising
14%
£40,252
  Other
<1%
£335
---
Total Income
£278,282
---
  Charitable Activities
96%
£261,750
  Raising Voluntary Funds
2%
£5,517
  Governance
2%
£5,731
---
Total Expenditure
£272,998
---
These figures are summarised from our full Report and Accounts. Please contact us if you would like a copy.
What's next
In 2018 we will complete our new Strategic Plan. This will enable us to identify how we will maintain and grow our services in the future and will include measureable targets. Alongside our day to day operations we are aiming to:
Provide our specialist therapy Targeted Training Therapy to a greater number of children at The Movement Centre
Ensure that we adhere to all aspects of the new Charity Code of Governance
Develop our database to improve the quality and consistency of information and allow for greater analysis
Develop our digital marketing to create further awareness of Targeted Training Therapy
Launch our new video on social media and on our website in order to make it more widely available
Continue to enhance our services so that families receive the best possible experience
Aim to store all of our archived clinical records digitally
Thank you!
Thank you to all of our families, supporters, donors, fundraisers and volunteers from everyone at The Movement Centre for helping us to make a difference!